BIOGRAPHY
Angelo A. Mazzotti, who was born in London, has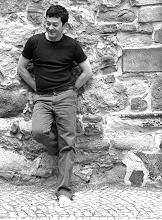 lived in Rome, where he grew up, and in Berlin. He is a semi-professional singer and musician, but his artistic career include many other experiences. Angelo, who always enjoyed SINGING, began playing guitar in Rome at the age of 14. But in his first band in1982-83 – THE MISDEEDS – he switched to BASS GUITAR, and sang, the repertoire being rock- and pop-covers. After other band experiences he joined in 1985 the band DIECI E TRENTA, where he was lead singer; the band played songs ranging from progressive-rock to fusion. Starting in 1983, Angelo enjoyed CHOIR SINGING as bass in theC.I.M.A. choir (mostly baroque music) directed by Sergio Siminovich, and improved his SINGING AND ACOUSTIC GUITAR PLAYING, performing for friends or in streets and clubs. In 1988 after leaving C.I.M.A. he joined the A.M.P.E.M. choir (directed by Sabina Angelucci), where he remained until 1993. In 1992 he created the MUSICAL SHOW 'UN SUONO DA MARCIAPIEDE' which was staged in a single evening in the Teatro de' Servi in Roma as a non-professional charity event. Meanwhile, in 1989, he GRADUATED IN MATHEMATICS at the Università "La Sapienza" in Rome.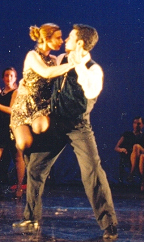 In 1992 he took his first TANGO ARGENTINO lesson, stepping into another fulfilling artistic world. In 1994 he joined the tango school at Eliana Montanari and Alì Namazi's CENTRO DEL TANGO ARGENTINO "ASTOR PIAZZOLLA" in Rome (www.tangoargentino.it). He had the opportunity of improving his dancing as well as participating in workshops by the best dancers and teachers, such as M. A. Zotto, Gabriel Angiò and Natalia Games, Edorado Archimbau and many others until 2000, when he left the school and more or less stopped dancing. To prepare for the various theatre shows to which he participated, he also took part in WORKSHOPS on acting, improvisation techniques and contemporary dance, with Gustavo Riondet and Sara Greco among others. With the company of Eliana Montanari and Alì Namazi he appeared as TANGO DANCER in Italian TV SHOWS on national networks ("Domenica In", "Alle falde del Kilimangiaro", …), in THEATERS in Italy (Teatro Vascello and Teatro Olimpico in Roma, Teatro Potlach in Fara Sabina, Teatro di Pozzuoli ….) as well as in street shows, museums and restaurants. He usually performed together with Antonella Raffio, with whom he also created CHOREOGRAPHIES to which they danced together. In the last two years they also TAUGHT beginners at the Centro del Tango Argentino "Astor Piazzolla". In 1993 he started his career as a MATHEMATICS TEACHER, which he still enjoys. In 1994 he was granted the PHD title in OPERATIONS RESEARCH at the Università "La Sapienza" in Rome.

In 2000 he went back to performing music.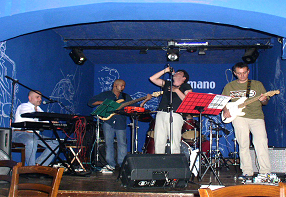 Together with Amin Alhayouti, Luigi d'Ettorre, Luca Frappola (www.myspace.com/lucafrappola) and Stefano Vinciguerra he formed the 80s cover band PENTA AND TONIC (listen to audio files). In their seven year career the five piece band (drums, guitar, bass, keybords and voice) performed dozens of concerts where pop songs from the eighties were performed for the audience's listening and dancing enjoyment. Angelo sang and played PERCUSSIONS and acoustic guitar. In 2004 the old friend and guitarist from Dieci e Trenta, Massimo Greco, took the place of Luca Frappola.
In 2002 he started a new singing ensemble with former members of the A.M.P.E.M. choir. TODAVIA CANTA directed by Raimundo Pereira, started off as an a cappella choir, singing sacred and profane music from all over the world, but especially from Europe and Latin America. The later developments have brought Todavìa Canta to perform Oratorio music with soloists and orchestra more and more often.
After singing pop, rock, folk songs and classical music Angelo became interested in JAZZ. In 2005 he started studying at the SCUOLA POPOLARE DI MUSICA DI TESTACCIO (SPMT) in Rome (www.scuolamusicatestaccio.it), where as a singer he studied JAZZ IMPROVISATION with Roberto Nicoletti, JAZZ STANDARDS with Nino De Rose and POP SINGING with Germano Falcione. He also took piano lessons with Carlo Cittadini, joined the TJVOICES jazz choir, directed by Giuppi Paone, and in 2007 took individual JAZZ SINGING lessons from her (listen to audio file, with Stefano Diotallevi).
A big turning point for Angelo is when in he moved to Berlin in August of 2007. He was lucky enough to be able to join the jazz choir FLEETING GLANCE straight away, directed by Detlef Stanoschevski (www.fleeting-glance.de), with which he performed, as bass and sometimes also as solo singer, in seven different concerts in Berlin and in Stettin (Poland).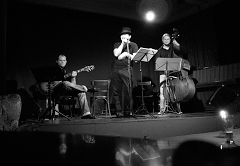 A few weeks later he met jazz guitarist CHRISTIAN KULLACK, (www.myspace.com/kullack) with whom he worked on a set of jazz standards and Italian songs to perform in trio. Together they made a demo (listen to audio files) and played with ULF MENGERSEN (www.myspace.com/granulatedsugarsubstitute) in the BeBop Bar and in the Haus der Sinne. Looking for yet another chance to sing in public, in December 2007 he decided to try to present solo programs made up of songs sharing a common theme, performed only with VOICE AND GUITAR.

He managed to hold more than ten concerts in Berlin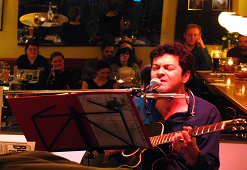 (in Bebop Bar, Donnerstagsbar, Petit Laboratoire, Place Clichy…) and two in Halle/Saale, with different themes: US songs from the 60s and 70s, Italian songs (listen to audio file), Songs from soundtracks, Songs from Rock Operas and Concept Albums, The Juke-Box program: choice from 100 songs. Having returned to Rome in 2008, Angelo re-joined both choirs TODAVÌA CANTA and TJVOICES, went back to his classes at the SPMT, and began to collaborate with guitarist ROBERTO NICOLETTI in forming a duo, the DINAMIC DUO, where he sings, plays guitar and percussions, and performs vocal bass.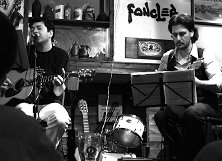 The two play songs ranging from jazz standards to pop, or even classical music. In Summer 2009 in Calvi dell'Umbria he took part in the show La Notte del Labirinto by the ART MONASTERY PROJECT (www.artmonastery.org) as singer, guitarist and tango dancer. The same year he was called by writer/director SERGIO BAZZINI to sing and play guitar in the theatre project IO DISUBBIDISCO, forming the music quartet O IN CONDOTTA with Bazzini on trumpet, Giada Pietrini also on vocals and Andrea Gesano on piano; the show went on stage in Rome in 2009 and 2010, and was followed by the show IL DIAVOLO A QUATTRO in October 2010. Earlier the same year Angelo took part in the 1st Big Band Singer's Competition at the Felt Club Music School in Rome, resulting as the best male contestant, although not reaching the final. A few months later he began rehearsing with TJORCHESTRA, the Big Band of the SPMT.

In 2011 Angelo joined a new group, called ANKA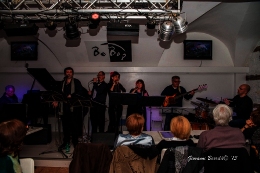 VOCAL BAND, a vocal quartet who has begun working on both a-cappella and non a-cappella arrengements, some by NICOLETTA GERVASI, also a member of the group. Then, having started writing lyrics in English, Italian and German to Jazz Standards, in April and May 2011, with help from ROBERTO NICOLETTI he recorded four standards and an original song by ATTILIO DI PIETRO, all with his own lyrics, accompanied by jazz musicians. The CD Demo - called VERBA VOLANT- has come out in August 2011.

ANKA made their debut concert in March 2012, and so did, at the same time the OTTOVOLANTE Small Jazz Orchestra, a jazz tentet of musicians who have been attending Roberto Nicoletti's jazz impro classes and are now on a project of their own, experimenting with different music styles and original songs. Angelo is one of the three singers. For ANKA and for the OTTOVOLANTE Angelo has started to write music and lyrics. In April Angelo and Priscilla Bei recorded the italian version of the opening song for the Max and Ruby TV series, and in June SERGIO BAZZINI's latest show - SIGNORA E SIGNORINA SIAMESI - has been staged, with Angelo singing and playing guitar.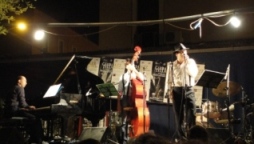 2013 brought more concerts to Angelo's ensambles, and the first demo CD of ANKA VOCAL BAND, which includes Angelo's track "Se vuoi". In June Angelo formed a new ensamble: the ANGELO MAZZOTTI TRIO, including Andrea Gesano on piano and Giampiero Camera on double bass. The three musicians performed also at the Garbatella Jazz Festival and at the Cantina Jazz, their shows being dedicated to Charlie Parker ("Homage to CP") or to old and new lyrics in jazz ("La Parola al Jazz" including lyrics and music by Angelo).

For a more detailed insight see the Curriculum Vitae of Angelo A. Mazzotti.